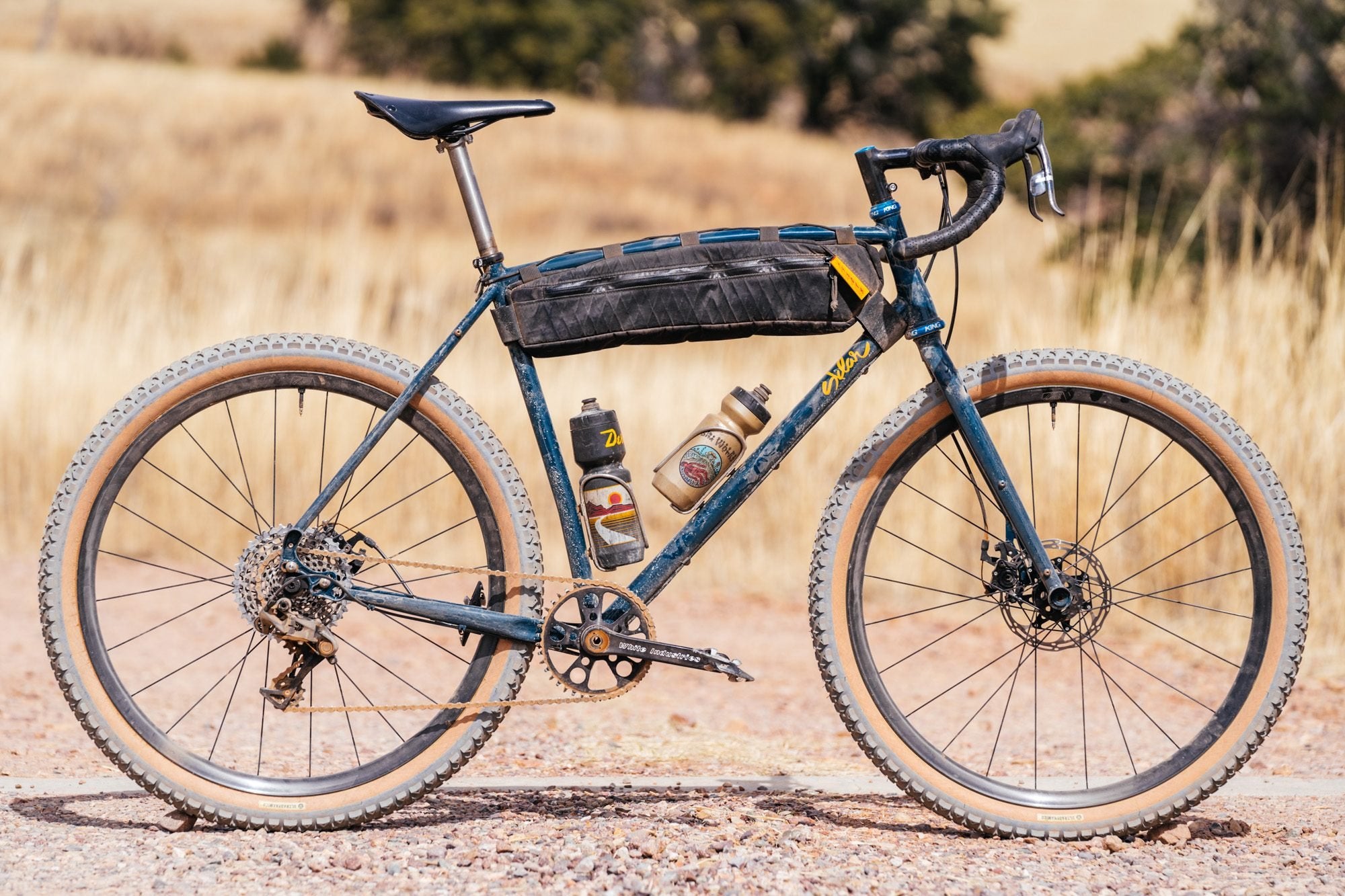 Adam's Super Something gravel bike
Here it is. The first Super Something to be built up at Sklar Bikes HQ.
I haven't been super vocal with this project yet as it is a bit of a departure from how we have done things in the past and I want to make sure that it gets done just right. This frame and fork was designed by myself and manufactured in Taiwan. This frame is one of a handful of samples I received to review before green-lighting a large order of frames that should land at my shop Fall 2022. If you have followed Sklar for long, or have any insight into the custom frame building process, you might know that it is rather meticulous. Each tube selected for a reason, every junction carefully thought through. There are a lot of ways to design a frame to be made at a larger scale (mind you this is still very tiny scale production compared to large bike brands) from picking out a frame in a catalogue to fully engineering the materials that will make up the frame. The Super Somethings were designed from the ground up with hand selected double butted air-hardened tubing, varying for each size and custom forged dropouts and machined headtubes designed by myself.
While custom bikes can meet niche needs, it is also easy to see patterns arise. When I see those patterns match up to my own riding preferences and those of my friends I know we are on to something and those are most of the details that have been added to this bike. Front rack and bag supports, but no cage mounts on the fork, ISO brakes, an extra bottle cage on the down tube, plenty of tire clearance, a nice flexy frame. I' am excited to be making a bike "for us" not only in riding style but in price point.
Anyway, on to the main show! Here is my personal Super Something Gravel bike, a 58cm frame built up mostly how I like it. The first thing you may notice are the chonky 650 x 2.2" wheels. I will admit, I'm not a 650 guy. My wheel/tire preference for a bike like this is 700 x 42 file tread. However a cracked 700 rim has left me trying out these big ole' tires and I have to say, it's not too bad. Certainly fun when we rode a nice 13 mile stretch of the rocky Arizona Trail. The really lightweight Ultradynamico tires make the penalty hardly noticeable too. The Enve G28 wheelset does not hurt either. If you are going to go carbon rims, go flexy carbon.
These frames are really designed around the SimWorks AnnaLee stem, which you can see pictured. I feel like this gives folks a lot of room for adjusting fit. Slam that stem and throw some 38c tires on there if that's your thing, the Anna Lee is right in the middle of the road for my intended saddle height/bar drop ratio, and then add some spacers if you want to go more upright. Here I am trying out the Enve G series bar because I wanted to see what the hype was all about.
I like an 11 speed drivetrain for my gravel bikes. I've taken this same drivetrain up steep MTB trails and down big mountain passes for years. I understand the urge to obsess over gearing, but I suppose I'm more interested in just getting out and pedaling. Here I am running a Sram MTB derailleur with the Ratio fin adaptor for Sram Force shifters. It works great and I mayyyyyy think about a wider range 11 speed cassette some day.
For brakes I went with the Paul klampers for mechanical simplicity. I have been saying, these brakes are 85% of the performance of a hydraulic brake with 10% of the maintenance. For me, I can't get behind that tradeoff fast enough. I'd so much rather loose a tiny bit of modulation for almost never having to maintain my brakes. It's awesome if you prefer to just get out and ride.
My favorite White Industries cranks sure are pretty and made by pals and I've been saving this turquoise King headset for something special for years. Ti Seatposts are the unsung hero of comfortable bikes so I whipped one up for this bike. For cargo carrying I always go framebag first. I like a bar bag too, but keeping that weight underneath you gives you a superior riding experience. This one is from my pal Tom who does VRNCLR sewn storage.
I should note that I never plan on selling these as complete bikes. It is so fun to see how everyone builds up their bike and one of the things I am most looking forward to with this project is seeing all the ways they get put together. This build is how I like mine (for now) and I am sure there are people out there who can't stand it. Luckily for them, the Super Something platform is super versatile, so stay tuned for some more wacky builds as we get the sample frames together.
Thanks for reading!
-Adam
Photos by The Radavist