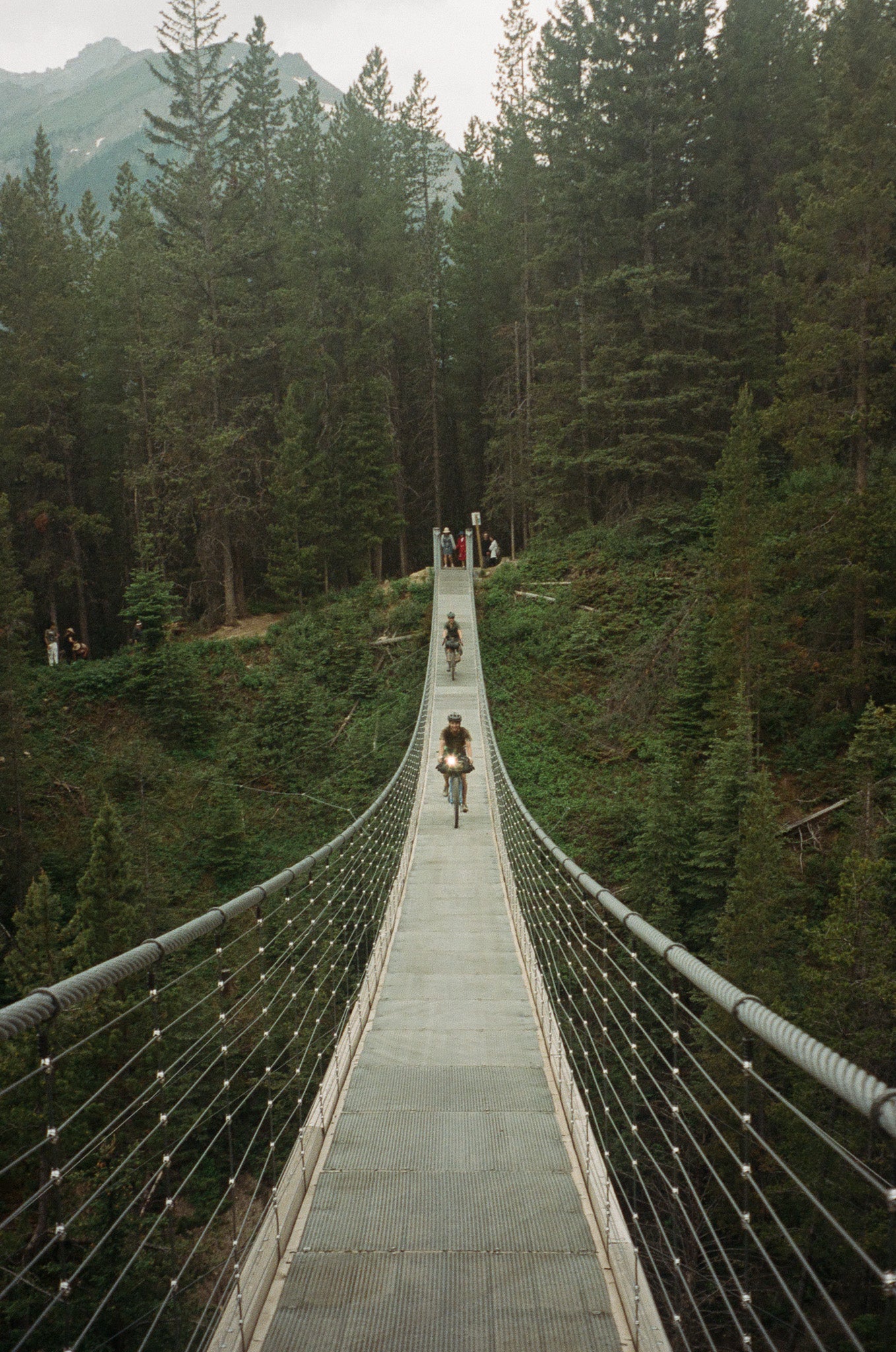 The Tour Divide is a 2,700 mile race along the Great Divde mountain bike route that happens each Summer from Banff, AB to Antelope Wells, NM. I had been curious about the event, like many people, since first seeing a documentary a bunch of years ago. Since then I have watched inspiring heroes like Lael Wilcox and Sarah Swallow push themselves through this long and challenging route and wondered what it might be like for me to try. So this winter I started hatching plans with a few friends to head to Banff for the June 9th depart and try it out.

I think on a trip like this, having some clearly defined goals is helpful. It is easy to get wrapped up in the moment out there and checking in to make sure you are on track is a good exercise to keep you grounded. My goals were to go on a long bike tour and to spend some time connecting with my body, my brain and the place that I live. I had no intentions of actually racing, and as the reality of taking a month off work came closer, I settled on a rough goal of making it to Granby, CO where I could easily ride to Denver and fly home. 18 days or so I hoped. 
The weeks came and went, gear was dialed, a new SuperSomething frameset was built up and before I knew it I was on a plane to Banff. I met up with my friend Sarah Swallow in the Denver airport and we chatted about life and our feelings around the ride. Sarah and I have become friends over the years mostly through hanging and riding in Tucson during the winters. One thing I like about our friendship is that we can get so caught up talking about life and things that I often forget that she is an extremely accomplished professional cyclist. Sarah, having done this route several times including one second place finish in 2020, was feeling good and knew what she was in for. I really didn't know how to feel. I had done some longer rides that spring, but training is tough in Montana where the riding season is just getting going in early June. Like all the other tour divide people, she assured me my legs would kick in on day four or five. We made it to Canmore where we got to spend a couple days enjoying the ridiculously beautiful views and prepping our bikes for the ride. Friday morning we made it to Banff for the big start, err grand depart.
I am pretty sure at this point in my life I am over racing. When I was getting into bikes, the only way to be a "cool bike person" was to be a fast bike racer and of course that was what I wanted to be, even though I never had much success in it, let alone bike races to participate in up here in Montana. All those feelings of wanting to win races have left me though. Being more intentional with my intentions on the bike has rekindled my love for cycling  and that has been really nice. Anyhow, long story short, we got to Banff and we were definitely at the start of a race.
I had been really excited to see the Grand Depart. I am a fan of certain aspects of cycling culture, and while I was here to tour the tour divide I wanted to see this big event I had heard so much about. I am glad I did, but it was a lot. A lot of people riding real close to you the whole first day, a lotttttt of nervous energy, a lot of going out too hard because of that nervous energy. Between wanting to get ahead of the pack for a little breathing room and getting wrapped up in that race energy we went out pretty hard that first day, doing about 110 miles with 10,000ish ft of climbing. I sort of knew at the end of that day that I was in for it. I know how to read my body on rides like this after all these years, and I know I pushed it about 15 miles too far on day one.. 
The Canada section was gorgeous. Some of the most beautiful riding I have ever done. On day two after an all-morning hike a bike up Koko Claims our group spread out pretty good. Sarah was off the front riding real strong. Aliz and I reunited in Fernie for some Wendy's chicken sandwiches and milkshakes. We got a good second wind and climbed up to Butt's cabin in a torrential downpour where we met Sarah. Things let up just enough to dry off the last 20 miles before bed.
Day Three was enjoyable and also a turning point for me. I rolled out of Butt's towards the Canadian border before Sarah and Aliz, legs feeling roasted. Sarah caught me shortly and passed me saying she was going to ride her pace, that was the last I saw of her for a few days, but I was happy she was feeling strong and doing what felt best for her. About 10 miles in my legs were coming to life and I put on some music for the only time during the trip. With my sad cowboy tunes, climbing next to some beautiful mountains, I was feeling real good before a nice long descent. At the bottom I sat for a moment and dried my soaked bivy and sleeping bag in the sun and enjoyed some cookies and a nice cold instant coffee. As I started climbing up towards the infamous "wall" I ran into my friend Arya and we had some really good chats before I carried on. I passed by beautiful swimming holes and campsites as I climbed up and blasted down another 3000ft pass towards the US border. No time for those things on the divide. I was feeling goooood. I think that was my favorite section.
At the border I also ran into Zoe who I would end up riding with for the next 5ish days. We waited for Aliz for a few hours but I was getting antsy so I rolled off to Eureka for some dinner. I hemmed and hawed about waiting for Aliz and Zoe or going to catch up with Sarah, who was only 30 minutes ahead of me when I hit the border. Feeling anxious I decided to go catch her and hammered up the climb out of town. One thing I did enjoy out there was a realistic idea of how long mileage takes. You are riding enough to know your actual average speed and with 40 miles to catch Sarah I was looking at four hours or so. It was only 8:30, "I am doing some riding in the dark tonight", I thought. Cool. A real adventure today. At 10:30 I was almost to the top of the first climb (only 2500 feet if I remember right) when I got an inreach message from Aliz. They were only 4 miles behind me and looking for a spot to camp. At this point I was getting real tired and between two more hours of riding in the dark or a quick descent to camp with some friends, the later one. 
That moment was a real turning point, not just for the ride but for me thinking about what my goals were. As I rode that climb I was trying to remember what I had gone out there for, it was the best way to make sense of things as far as I could tell. I wanted to do something hard. I wanted to feel those second, third and fourth winds that you can only feel on really big rides like this. I wanted time to think and be away from the world, but I also wanted to connect with my friends who I had set off with and have an enjoyable time. Part of me feels like if I had caught up with Sarah that night we would have made it to my original goal of Denver, but that didn't happen and I ended up having a laugh-filled challenging ride down to Wise River with Aliz and Zoe.
Over the next six days we kept pushing hard. My riding partners were super strong and while I had moments, riding that many big days back to back added up. I remember near Whitefish thinking, "if I'm not feeling better in three days I should call it". I never did feel better but I did last another five days. Those miles really blur together. Beautiful winding roads through Montana, riding up and dropping down big passes a few times a day. It was cool. It was hard. We were still pushing 70-80 mile days with 8ish thousand feet of climbing. We were riding past beautiful camp sites only to sleep on the side of the road and hardly stopping in these quaint and charming towns. Town lounging is one of my favorite parts of bike touring and being in such a rush all the time was honestly a huge bummer. Who knows the next time I will get to go to these amazing places, I would have loved to enjoy them more. 
After our hotel in Whitefish, morale was feeling a little higher. We pushed on towards cute small towns - Seeley Lake, Ovando, Lincoln and finally on to Helena where we enjoyed a life-giving buffet and a hotel, which was real nice after a few nights in a wet, wet bivy. In the morning we met up with some more friends - Sarah, Sam, Arya, and Jordan - at the coffee shop. Spirits were high as we headed out of town and up a big climb. I was not feeling strong. Even after a night in a hotel with lots of good rest, that will get your brain going some places. Keeping a constant stream of skittles in my mouth to make it up the climbs was starting to stress me out too. There's no way that is good for you. I let the crew ride ahead of me and took my time and to my surprise started feeling a little better. That said, I think I could tell the end was near. Being about an hour drive from home wasn't helping either.
I remember the ride into Butte being extra cool. A beautiful descent down a squiggly dirt road surrounded by green, rolling towards another spot so close to home.  We linked up with Sarah and got some Pizza. When we got to town we had plans to carry on South, but by the time the pizzas were gone the beautiful historic hotel down the way was calling out names. The wheels were coming off and I was here for it. The next day we loaded up and after a coffee in town we made our way over the infamous Fleecer Ridge. Sarah and I rode together most of that day, I remember some hard climbs and beautiful descents and some really good chats. We made it into Wise River just before a big rain and celebrated with onion rings, ice cream and hot chocolate. Divide riders were coming in and out of this little small town restaurant as we sat for a couple hours and deliberated what to do. Sarah was done. I knew I was done too but maybe I wasn't ready to say it out loud yet. I really liked the idea of riding all the way home and that is what I was hoping to do. At this point I had also been in contact with our friend Hubert who was at his family's ranch an hour East. An idyllic, beautiful place and Hubert had already offered to come pick us up.
We spent the night in Wise River and would set off to 'Bert's in the morning. It rained all night and morning, so we hunkered down in a community center next to a little coffee shop to wait it out. It was 40 degrees outside when Hubert again offered to come swoop us up, so this time we said yes. 
We spent the next three days at Hubert's cozy little cabin - cooking amazing food on a fire, going for little hikes on the trails hunting for mushrooms, and mostly just sitting down. It was the perfect transition back into the real world. 
We made it around 780 miles on the Tour Divide. It has been almost a month now since we got off the trail and I think I've made a lot of progress on processing the experience. There have only been a few times in my life that I have gotten to do something that has been on my list this long. It feels really good to have tried it out. As you can imagine, I run into friends daily who ask "how was the trip?" and through my now well-rehearsed description, one of those friends asked recently, "did you have fun?". I certainly had fun out there, but in the end would I have preferred to spend 18 days touring that 780 miles instead of covering it in 9? One million times yes.
I guess this goes along a lot with my recent feelings around bikes. At this point it is probably worth mentioning that I did this ride almost straight off the couch. Would it have been a lot more fun if I had spent a year training for it? Definitely. But training all year for a big ride is not how I want to spend my time. Bikes have enveloped my life since I was 16. They've been my number one hobby, my social life, my career, my community, my main form of exercise. A few years ago I found myself super burned out on bikes and I realized it was because that is too many things for one thing. I crossed exercise and social life off that list and life has been so much better since. It can be tough when you used to train and long rides were easier, but these days I like stopping at a creek and swimming for a few hours in the middle of my 20 mile ride. I like mellow bike tours where I fart around in town for half the day and spend the other half looking for the perfect campsite and seeing which of my friends can cook the most impressive camp meal. Also, maybe part of me still wants to be an ultra racer.
So would I try riding the Tour Divide at race pace again? Probably not. But who knows, things change all the time and maybe my turbo mode is coming. That said, I am so grateful I got to give it a try, and I still love bikes and I am pretty sure I always will.
.