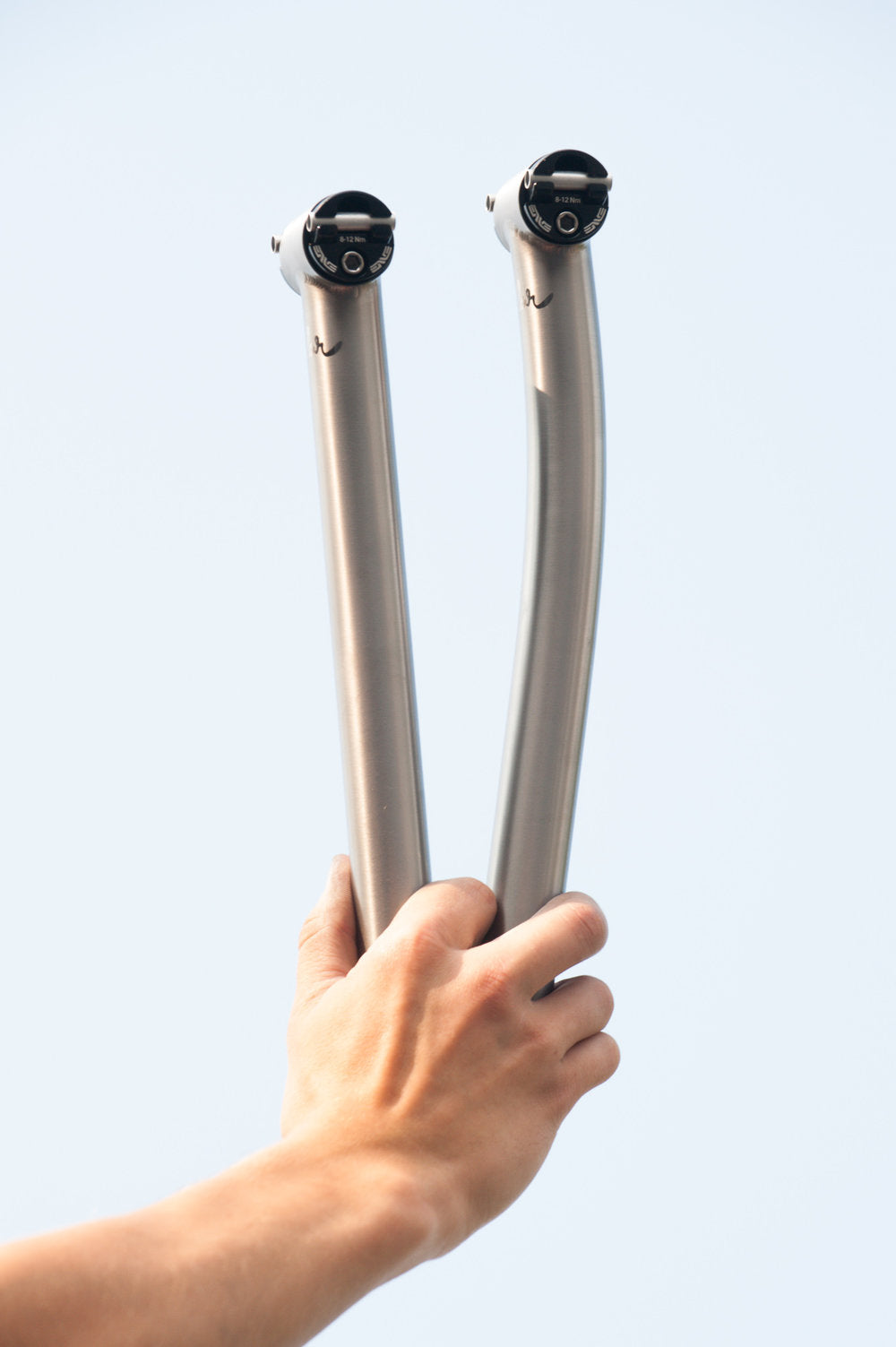 Introducing Titanium seatposts from Sklar
Someone wise once said, that "comfort is speed", and Sklar tends to agree. Sklar first became intrigued with Titanium seatposts a few years back when Bozeman local and Bikepacking hotshot, Dylan Taylor mentioned that a Ti seatpost was the best bicycle-related purchase he had ever made. Coming from someone who has raced the CTR several times and even won the American Trail Race, this was no comment to be ignored. After spending considerable time on these posts himself, Adam decided that Titanium seatposts should be a part of Sklar's Titanium offerings which were first announced in 2017.
After spending countless hours designing, riding and refining, Sklar is pleased to introduce Titanium Seatposts for order in stock sizes, as well as available with all frame or complete build orders. For now posts will be sold in 27.2mm diameter with two setback options - 0mm and 15mm. The posts are made of the highest grade titanium available and welded in Sklar's shop in Bozeman, MT.
Order your Titanium seatpost here
WHY RIDE A TITANIUM SEATPOST?
Titanium is a flexible material. At this point the bicycle industry may have led you to believe that flex is bad, but like with all the designs we are looking for the right things in the right places. Having a flexible, springy material like Titanium for your seatpost allows much of the vibrations and shocks from rough surfaces to be absorbed before they reach your tush. Think about it like riding on a big spring. We have worked hard to find just the right balance of wall thickness and bend profile that allows for a post you truly will not notice - no extra movement when you are putting down the watts, but you may start ending your rides with your back and "chamois area" feeling oddly refreshed. A Ti seatpost is a perfect upgrade for your All road, or even your mountain bike if you are going ultra-light.
WHY TI OVER CARBON?
Carbon is also a great material for parts of a bike that transfer vibration - i.e. forks, handlebars and seatposts. The folks at companies like ENVE composites do their best to build a product they can mass produce in a mold that will serve the most people possible. Most of the carbon seatposts on the market do a great job of damping road vibrations. Think of the vibrations entering the seatpost from the frame and getting the volume turned down as the travel towards you. This is great, and a good step up from an alloy seatpost with regards to comfort. Carbon still maintains a stiffer modulus than Titanium though, and for those reasons will never be able to turn that volume down quite as much as Titanium. Especially on those long washboardy roads of big hits.