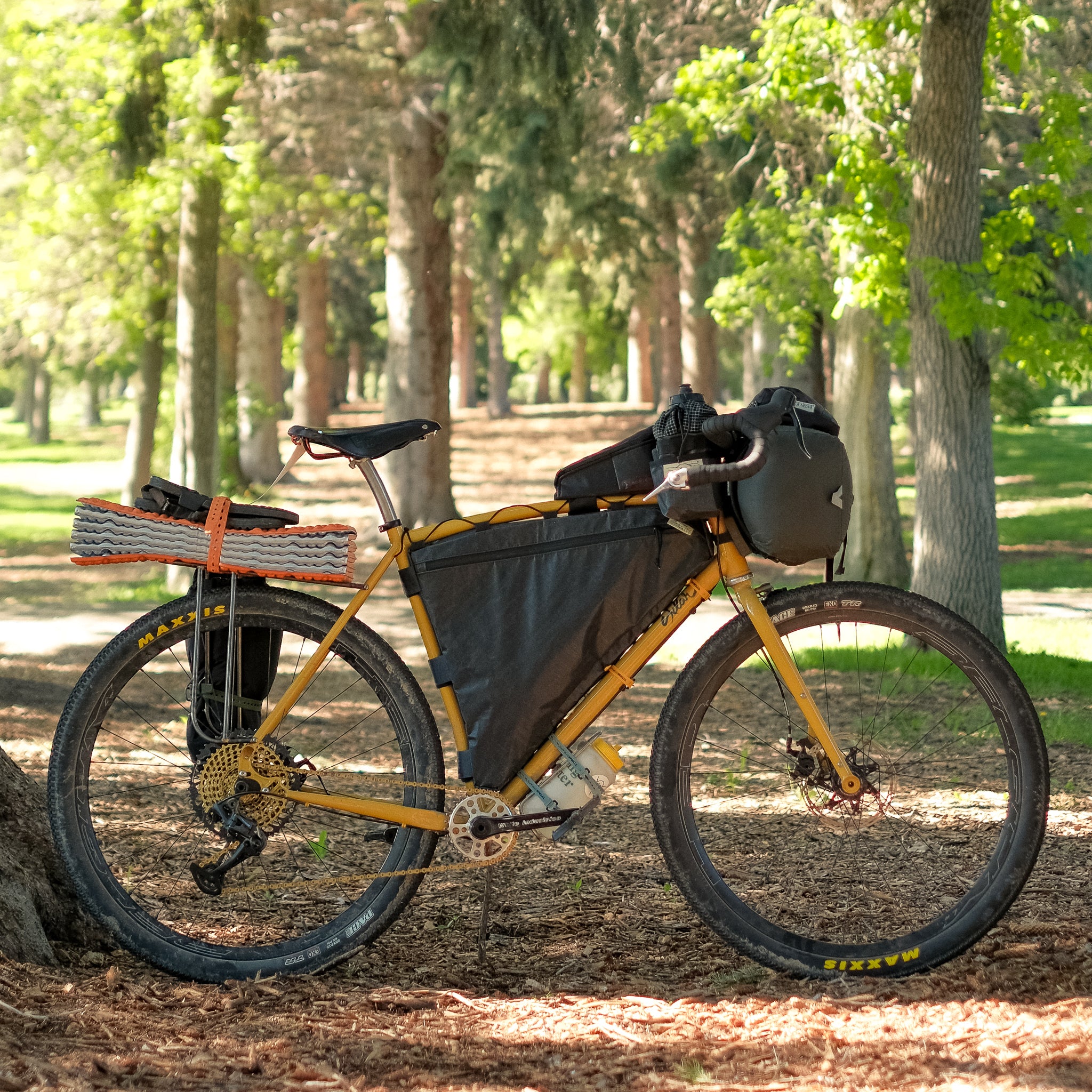 Super Something on the Tour Divide - Adam's Tour Divide Rig
The idea has been with me for a while - riding the Tour Divide. Friends have ridden it over the years or stopped through Bozeman on their way south to the Mexico Border from Banff. I an sure that helped to plant the seed. While I have been on lots of one to five day trips since the bike touring bug bit back 2016 on the Colorado trail, it has been about that long since I have done a trip this big. I have been longing to get into that rhythm you can only find five or six days in and with a 30th birthday this year, a big tour seemed like a great way to celebrate. So here we are. Flying up to Banff next week and riding South.
Plans for the ride started to come together in Arizona this winter. As I sat around a crackling campfire with some bike-nerd friends, I dreamed about the Titanium drop bar touring bike I would build myself. A big front triangle for ample framebag space, a mostly road-ish geometry but a little longer and designed around a shorter stem for stable and confident handling to blast down mountain passes all loaded up, and finally a superlight rear rack for some fluffy gear and a sleeping pad.

When I got back to civilization I started drawing this bike and somehow it looked so familiar. In fact, it looked a lot like the 60CM Super Something frame. I normally ride a 58CM frame for day-to-day gravel riding but I sized up to the 60CM for all that framebag space and more stable handling and it fits great with a 50mm stem, nice wide bar and a few mm of standover height to spare. For the trip I am running 2.1" tires which I hope is not to overkill, but these Maxxis Pace's are nice and light. The Crust Towel Rack bar is so comfy and fun. I like how the minimal drop provides more hand positions without changing the riding position too much. For chamois-less riding I am going with a brooks B-17 saddle on a Titanium seatpost. For the drivetrain I am going with a 12 speed friction shifting setup with a 32T up front and 10-52 in the back.

The dear friends I am touring with are some very strong riders. Sarah, Aliz, Jordan and I are planning on a 100 mile average per day which is pushing me to go with a real lightweight setup. I love bike touring comfortably but this time I am going no stove, one set of clothes, only a bivy and a tarp in case of real rain. I am excited to do something really hard and I am also hoping that cutting down the setup will make it a little more manageable.

For storage I have a big ole' frame bag from VRNCLR to hold a few items but mostly lots of food and water when we need to pack extra. I went with a front dry bag/bed roll situation that has my sleeping bag, bivy and some warm camp clothes. I've also got cupholders on the bars for one sippy bottle and one for snacks and then a lunch box up front for my cameras and things I might need if the weather changes quickly. In the back I built a very minimal rack that holds my sleeping pad and sandals, and I can strap on dry bags to to hold some rain gear and warmer clothes. You can check out my packing list below.

I'm excited to be out on the bike for a while here and excited that this is the bike I am taking. 
Here is my final packing list:
Black rear dry bag
-Rain jacket
- Rain pants
- Merino tights
- Merino long sleeve
- Synthetic puffy
- Wool Buff
Front bag
- Digi cam
- Film cam
- Wind breaker
- Gloves
- Bear whistle
- Bear spray
Cup holder 1
- Sippy bottle
- Chapstick
- In reach
Cup holder 2
- Nothin
Crotch Bag
- 3L Befree water filter
Frame Bag
    Left
- Repair kit
    - Brake pads x1
    - Master link
    - Tire plugs
    - Chain lube
    - Multi tool
    - Extra shifter bolt
    - Titan straps (2x mini, 1x reg)
    - Zip ties
    - Gear tape
- First aid kit
- Pump
- Toiletries
- Electronics
    - Battery brick
    - Wall charger
    - USB mini cable
    - USBC cable
    - Camera Dongle
    - Headphones
    - Headlamp
    - Film
- Spoon
- Ligher
- Notebook
- Leatherman
    Right
- 2L bladder
- Extra dry bag
- Hat
Front dry bag
- Tarp
- Paracord
- Sleeping bag
- Bivy
- Inflatable pillow
- Extra socks
- Running shorts
- Extra merino undies
- Wool button down
Rear rack
- Z rest
- Bedrock sandals